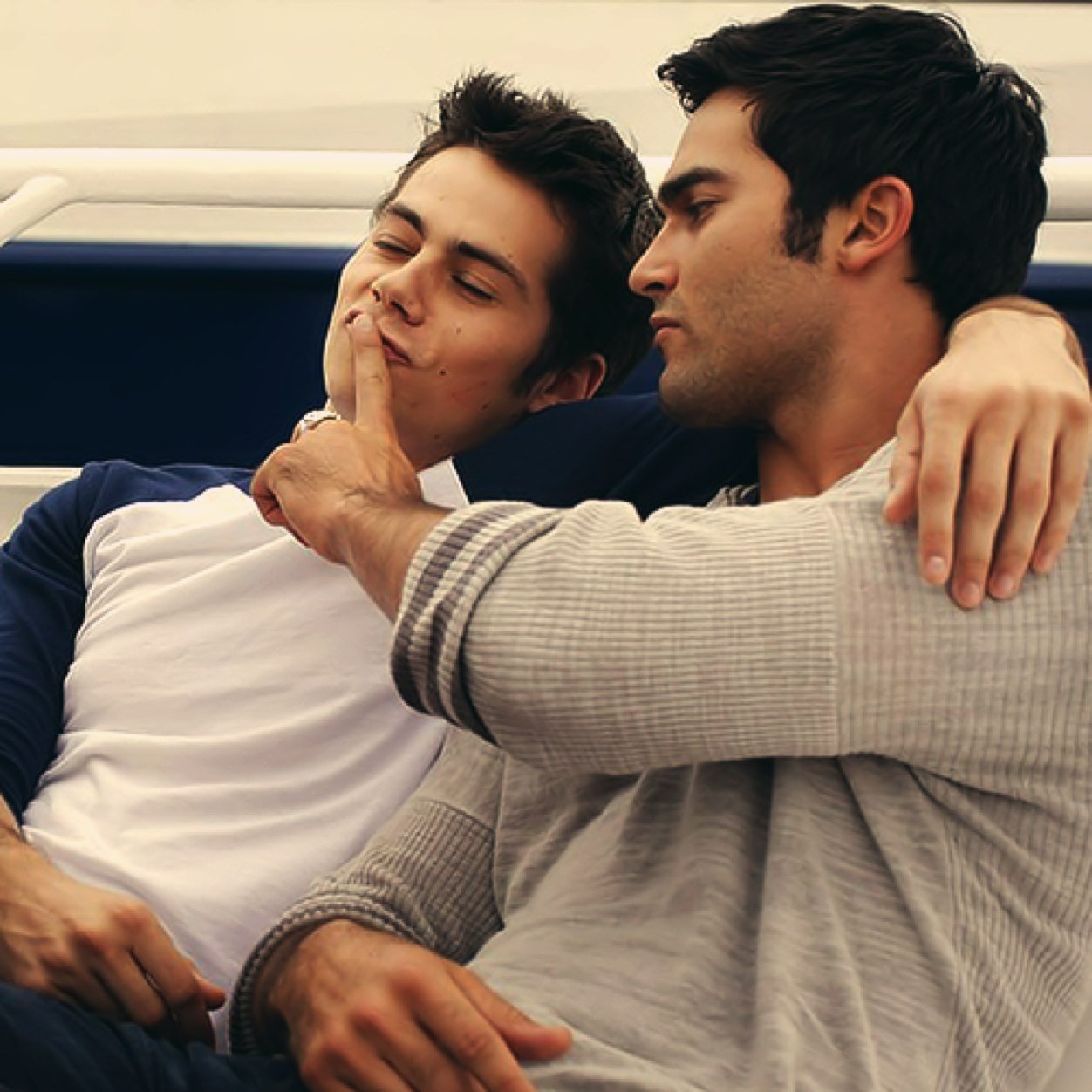 Primero de todo advertiros de que todos los fics que voy a recomendar están en inglés pero que si alguien me dice alguno en español que sea bueno prometo leerlo y añadirlo a la entrada (si me parece bueno).
Son todos Sterek y son explicitos, que tienen sexo vaya. Los tres primeros son mis favoritos de entre todos los que he puesto, pero me encantaron todos.
By Any Other Name (33090 words) by entanglednow
He doesn't know his name, he doesn't know who he is, and neither does the werewolf he's on the run with. But he's pretty sure they hunt monsters, because they seem to be really good at it.
Cornerstone (83738 words) by Vendelin
Suffering from PTSD, ex-Marine Derek Hale moves back to Beacon Hills to open a bookshop and find a calmer life. That's where he meets Stiles, completely by accident. Stiles is talkative, charming and curious. Somehow, despite the fact that he's blind, he's able to read Derek like no one else.
Little Wild Animal (61034 words) by DiscontentedWinter
Derek Hale finds a feral human on his pack's property.
Humans are supposed to be extinct.
But then, Stiles is full of surprises.
A partir de aquí no están en ningún orden en concreto de mejor a menos mejor o algo.
DILF
(30871 words) by
twentysomething
"Today is Scott's first day of kindergarten and Derek is terrified."
Prince Among Wolves
(101000 words) by
tylerfucklin
Looking for full day/evening sitter. 2 twin boys age 4. Must have exp. w/werewolves. Must be human. No pedophiles. No teenage girls. Pay negotiable.
Don't Worry Baby
(20276 words) by
kalpurna
"You know you're allowed to ask for vanilla sex, right?" he says, afterwards. "We can do whatever you want. That's kind of the point."Derek doesn't respond.
Bones Straining Under the Weight
(15645 words) by
weathervaanes
One of Stiles' favorite things about life is Derek Hale's food blog. He never expects to meet the man in person.~
"Derek," he says again, and the name feels very strange on his tongue. "You don't mean Derek Hale."
His professor's eyebrows reach up, eyes widening. "You read his blog?"
"Uh. Worship. Would be a better more descriptive word. That is Derek Hale?"
Jimmy chuckles. "Good-looking guy, huh?"
"You mean to tell me the Food Network hasn't snatched him up to dethrone everyone else from daytime TV."
Jimmy smiles a small private smile. "I don't think TV is his medium."
Stiles raises an eyebrow. "Shy?"
The man laughs heartily at that. "No, I wouldn't say that. He just has particular forms of expression, like eyebrows and chili powder."
No Homo
(84064 words) by
RemainNameless
Stiles' sophomore year starts something like this:
3 FourLokos
+ 1 peer-pressuring cat
- 1 best bro to end all best bros
= 1 Craigslist ad headline that reads "str8 dude - m4m - strictly platonic".
Derek is the fool who replies.
There is a Brotherhood
(21004 words) by
minusoneday
So far, college has taught Stiles three things:
1) Eight am classes are cruel and unusual and should be avoided at all costs, even if it means having to enroll in something truly hideous instead, like Econ 101.
2) Dorm security is just as tight as Stiles' orientation leader had promised it would be, and the dude guarding Scott's dorm in particular does not respond well to bribes.
3) Mrs. McCall clearly had no clue what she was talking about when she'd insisted that Scott and Stiles needed to branch out and room with strangers, so it's all her fault that Scott ended up with a total dick of a roommate and Stiles got stuck all the way across campus with some guy who has a girlfriend two towns over and is thus never around.
Or, the one where pledge brothers Stiles and Scott start a prank war with Derek Hale's fraternity.
Permanent Fixture
(80777 words) by
linksofmemories
Series: Part 1 of
The Rory to My Amy
Derek is Scott's older brother. Stiles is Scott's best friend. Derek is falling in love with Stiles. This is a bit of a problem.
He's Not Mine
(68534 words) by
Sunnee
Derek comes home to find an abandoned werebaby on his front porch and Stiles volunteers to help him out. Surprisingly, that is just the beginning of his problems.
Mated
(37712 words) by
otter
Stiles already had a history with skin magazines for werewolves. It wasn't like he was
new
at this, even if his modeling portfolio was completely pathetic. He was cool and collected. He was a jaded professional. He was not at all prepared for working with Derek Hale.
Lord knows it would be the first time
(12287 words) by
uraneia
Stiles is home from Berkeley for the summer, but only because he promised the pack. He'd rather not see Derek, because whatever the thing was that they were doing, they're not doing it anymore, and it sucks.
Unfortunately, he doesn't have a choice. The betas tried a magical remedy for Derek's melancholy, and now Stiles has a three-year-old who looks like Derek. Stiles doesn't know how to deal with that, and he
definitely
doesn't know how to tell the betas he and Derek were secret fuck buddies for a year and a half.
Pack Up; Don't Stray
(55220 words) by
the_deep_magic
AU – Werewolves are an enslaved underclass, collared and tagged by human masters. Detective Stilinski's on duty the night they bring in an untagged stray.
Dating Backwards
(85826 words) by
RemainNameless
Pornstars Derek and Stiles work for the same company. Derek only shoots with werewolves and Stiles only shoots with humans. That's not going to change after they meet. It's really not.
(It might.)
The Littlest Alpha
(52508 words) by
triedunture
Derek and Stiles have taken out the Alpha Pack and pretty much saved the world. Okay, the town. Okay, their remaining friends. But the Alphas left something behind: a baby. And this baby is an Alpha too. Derek is determined to take care of the abandoned child, and Stiles is stuck going along for the ride.
But Stiles doesn't expect the ride to include seeing another side of Derek, or to find another way to say "family."
A Mating Moon
(37353 words) by
unpossible
"Hey, Scott, so, I uh, there's this amazingly hot guy and I'm uh, gonna spend the weekend with him but, you know, just to be careful, I'm sending you his picture, so if by some terrible chance my bloated corpse shows up sometime Monday, just, y'know pass this along to the authorities." He pauses. "Uh. Kidding?" and then hangs up with a rush of air.
"That is the worst voicemail in the history of voicemails," Derek says.
Shutterbug
(53413 words) by
Yiichi
Series: Part 1 of
NECKZ n' THROATS
Derek Hale is the photographer for the family-run magazine 'NECKZ 'n THROATS', a periodical aimed solely at the werewolf demographic. When the model for their monthly bails out, the staff are hard-pressed to find someone else to photograph at the last minute.
Stiles Stilinski is a college student, scraping by on odd jobs to pay for his education fees. When his long-time friend Lydia finds him a one-off gig at a photo-shoot, he figures it couldn't hurt.
As contrary as their natures appear to be, Derek finds the most fascinating piece of art at the end of his lens.
Sell Your Body to the Night
(121553 words) by
Dira Sudis
"No," he repeated impatiently. "I'm not a cop. I'm someone who wants to exchange my money for your sexual services. I was told you were in that line of work."
"I, uh, yeah, sorry," Stiles said. He glanced around again and then up--the full moon was almost directly overhead. Just one of those nights, maybe. "Yeah, I am. I do that."
The Company I Keep
(67551 words) by
secondstar
Stiles has a favorite table at the library. Then some asshole comes along and steals it from him.
Trust Fall
(144224 words) by
Stoney
Stiles is fairly certain that a case could be made for every bad thing in his life coming back to Peter Hale. This time it's pissing off a powerful witch, who retaliated by swapping Stiles and Derek a la
Freaky Friday
, because sure. That makes sense. Um, there are GPAs on the line, not to mention the whole thing where his dad wants to shoot Derek on sight. Except who he sees as Derek is actually Stiles, and Stiles did not sign up for filicide.
Great. Wait...does this mean he's the Alpha until they figure this out? Holy. Shit.
****
Derek had stood in front of the bathroom mirror for a few minutes trying to control the panic as he saw himself as Stiles. As the loud mouthed human friend of the pack. He was going to kill Peter. He was going to kill the witch, then he was going to kill Peter. Maybe even resurrect him again just to kill him all over.
They were going to have to play this cool. They would have to stay calm and focused. Which is of course why the universe threw him into this situation with someone who physically couldn't be calm and focused.
Of course.
Espero que os gusten mis recomendaciones.